At Bloom, our experience is grounded in the classroom, in schools, and in organizations striving for social good.
Just as Bloom's Taxonomy shapes classroom instruction, we believe deliberate planning enables organizations to think deeply, optimize their resources, and push themselves to grow, whether in quality, size, or organizational identity.
We approach our clients as partners in the work: You are the experts in your own organizations and ecosystems, and Bloom gives you tools, support, and encouragement to prioritize bigger-picture thinking and engage in activities that will result in long-term benefits for your staff, your leadership, and the people you serve.
Our personalized approach to project management ensures your project stays on track and allows Bloom to be your thought partner as you lead your organization through this work.
We specialize in the following planning services, which may be customized to meet your organization's unique needs:
We combine content and practitioner expertise with understanding of and curiosity about the competitive and dynamic landscape in which our clients operate.
Comprehensive Strategic Planning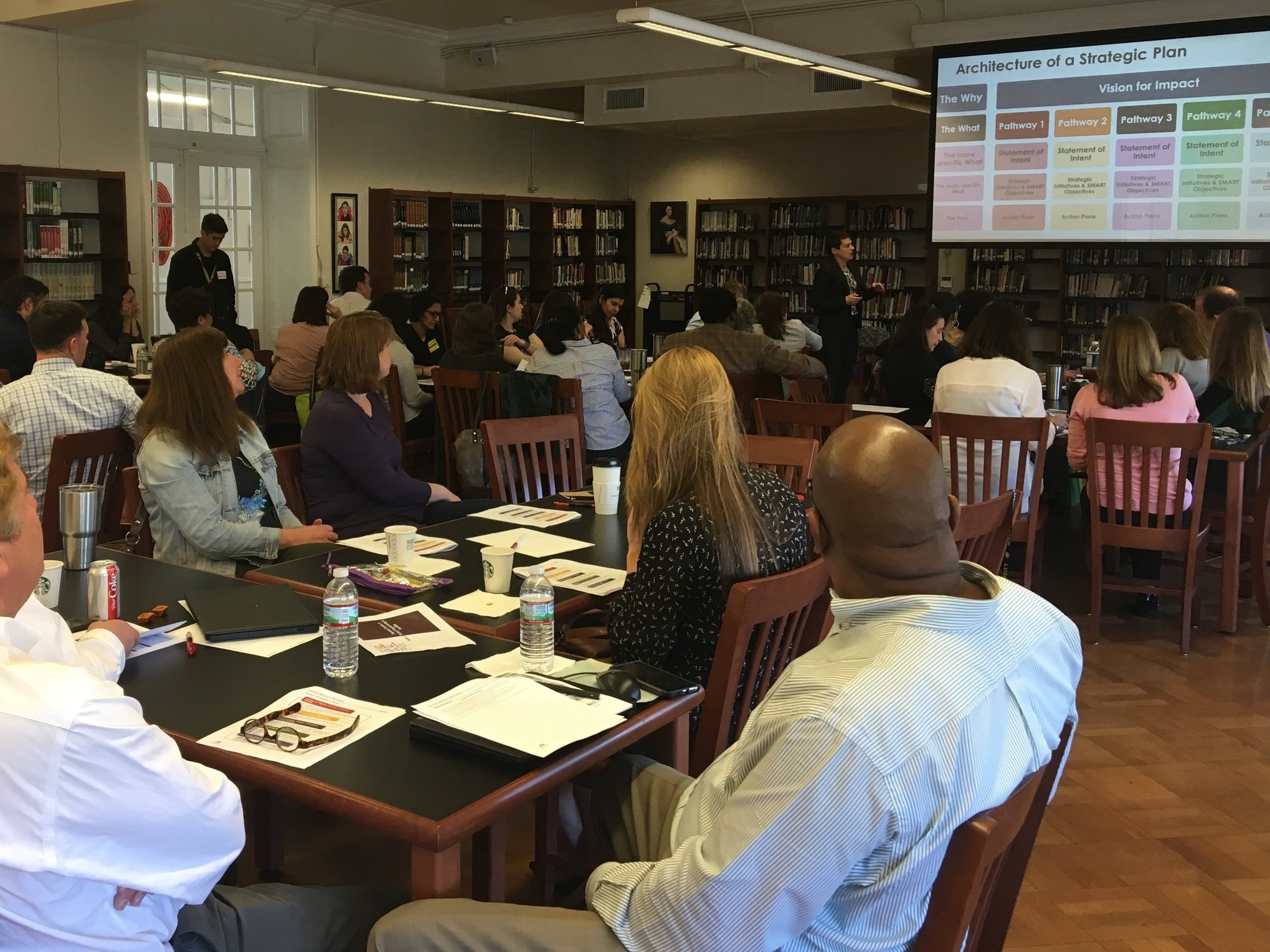 Bloom's strategic planning model, developed through partnering with dozens of mission-driven organizations, includes the following core stages:
Research (intra-organizational and environmental)

Visioning

Detailed planning

Governance & management

Accountability
Executed thoughtfully and purposefully, each stage undergirds operational readiness for change and growth.
The process of planning transforms clients into the leaders and organizations they aspire to be.
Market & Environmental Research
Bloom's team of experienced researchers provides in-depth data and analysis on the competitive landscape in which your school or nonprofit organization operates. We answer questions related to:
Market size

Demographic trends

Industry trends in preK-12, youth development, and OST

Comparable/competitor organizations

School feasibility

Sector openings
This research positions organizations to pursue mission-aligned and risk-managed strategies with the highest potential impact.
Program, Curriculum & Initiative Design
Whether your organization is creating something new or evolving an existing program or curriculum, Bloom provides a design process that is thorough and collaborative, setting up your organization for independence in the implementation and execution phases.
Leadership & Strategic Advising
Bloom helps organizations manage leadership transitions and governance reforms. Through skilled meeting facilitation and use of assessment tools, Bloom empowers leadership to align around a shared vision and planning process.
We help organizations govern better by developing board identity and improvement plans.
We support leadership to manage more effectively through data-driven decision-making, targeted professional development, and coaching around organizational dynamics.
We also offer short-term leadership advising on organizational identity, crisis management, and change management.
Organizational Assessment & Program Evaluation
With over two decades of experience in the preK-12 education space and nonprofit sector, Bloom's founder has built a team that specializes in helping schools, nonprofits, and social service organizations improve and grow to meet the needs of students, families, communities, clients, and staff.
We provide:
Organizational performance assessments

Organizational, environmental, and market scans

Improvement planning

Program evaluations and progress monitoring
For program evaluations, Bloom often collaborates with our partner organization, ImpactED, to evaluate program design, implementation, and impact. We use a mixed-methods research approach in most of our research endeavors: Quantitative methods include survey design and administration, analysis of administrative data, and analysis of publicly accessible, third-party, and client-sourced data; qualitative methods include interviews, focus groups, and observation.
Organizational Identity Development
Whether your organization is burgeoning or well-established, Bloom can facilitate a process for self-exploration that illuminates core purpose and (re)shapes key components of your organization's identity including:
Mission statement

Vision statement

Theory of change or logic model

Core beliefs

Unique value proposition

Operating values
Our experienced team can offer a range of standalone services to meet the ever-changing needs of your organization. We are committed to being compassionate, practical, problem-solving thought partners. Current offerings include:
Survey design and administration

Fundraising/Development advising

Student support service compliance related to special education, RTI, MTSS, and 504s

Curriculum and educational toolkit design and review

Charter application and renewal advisory
Meeting Design & Facilitation
Whether you need support with facilitating an ongoing process, a multi-day retreat, or a one-day meeting or workshop, our experienced facilitators will partner with your organization to deliver a customized experience.
We also offer standalone workshops on the following topics:
Understanding your team's work style (DiSC)

Navigating difficult conversations
"Bloom did their homework and then some in preparing for the workshop. In addition, they were skilled facilitators who engaged every group member. Our team walked away with much more than I think that anyone expected. The folks at Bloom are simply excellent at what they do."
- Kirk Smothers, Head of School, Delaware Valley Friends School